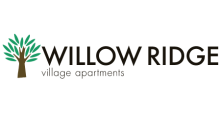 Your Review
Submit a Review

Resident Reviews
|Recommended: YesIt's a nice place to live. — It feels like home. My neighbors are friendly, including the staff. The apartment is comfortable with the exception of a few minor things. I always get compliments about the rug, the space, layout and amenities. It's good living for a good price.
|Recommended: YesWell keep clean — That it is a nice friendly and clean place to live.
|Recommended: YesExcellent Well Manicured and Safe — My significant I moved here in May 2016, we knew from the beginning that this was the place Kim, Pat and Mary are the ladies in the office and I must say they are beyond awesome My significant other works in PA so we decided his commute was entirely too long everyday therefore, we considered to moving to PA with a simple transfer from Willow well let me just say, Willow Ridge is by far one of the best properties they have The grounds are well manicured, the area is safe and the apts are well maintained Having said that, my significant and I decided his ride was worth coming home to Willow Ridge and we will be staying Kim with they assistance of the other ladies accommodated us very well, besides, we're surrounded by more shopping areas than I can handle.. LOL Thank you so much
|Recommended: YesGreat community — I really enjoy the apartment. The constant upkeep of the community really shows. The buildings are older but I still have less issues than my friends in newer complexes. I have been here for a few years and I cant say I have had any major problems.
|Recommended: YesResident — Nice complex to live in
|Recommended: YesI think this is a Great community. I love living in Marlton, NJ — I would tell them this is a Great Apartment to live in.
|Recommended: YesProperty is run extremely well, and I love living here — Entire staff is amazing, especially the property manager, Kim. All maintenance issues are fixed immediately, and they really go the extra mile to ensure I am satisfied. Parking is never an issue, and I never have any noise issues. This place is great
|Recommended: YesSuch an amazing place to live — I just wanted to drop a note to let you know how much I love living at Willow Ridge. The maintenance staff are amazing, the office staff are helpful and always accommodating, and I can not say enough about the snow removal - after the huge storm we just had, their team worked around the clock to insure that the parking lots and walkways were plowed, shoveled and salted. Thank you so very much for taking such good care of your tenants
|Recommended: Yes Friendliness goes a long way — I really do like living here- i love the cosmetic upgrade and the new sliding doors. I'm confident and also like the staff here which goes a long way with me Friendliness goes a long way I also like how the maintenance has kept up with the garbage. Makes it feel cleaner. I pick up items that are on the ground from time to time as sometimes people litter, but I really do love the grounds here. I love the gym and its also great that I feel comfortable taking my children for bike rides around the sidewalks and play freely in the field behind my apartment. Keep up the great work